Corrugated Plastic is an extruded material similar in appearance to corrugated paper.Both upper and lower surfaces are supported by fluted ribs. Several thicknesses are available, from light pliable sheet to heavy duty stiff "boards". Our design team use solutions designed to save our clients money and time. We begin by communicating with you and understanding your unique requirements.

Melmat, Inc. is fabricating and converting corrugated plastic sheet. Lightweight, yet strong, a great combination for your next container or packaging requirement. Corrugated Plastic is a reusable material that is attractive, durable and cost effective. In addition to stock/standard products, we welcome design challenges to help you create a unique item.
CORRUGATED PLASTIC STOCK PRODUCTS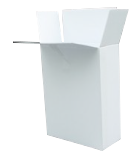 Regular Slotted Container (RSC)
The RSC is the most common container. The flaps meet at the center and can be taped. This container ships flat, making it less expensive on freight.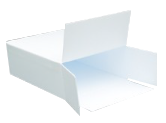 Flaps reach the opposite side of length panels providing added strength to the box. When laying on its largest panel, the flaps provide added strength for stacking. Can be shipped flat.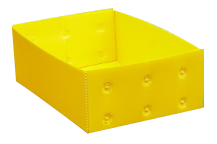 The DST has flaps on both sides and ends that are folded to make a tray. The tray can be used by itself or can be used as the lid to an HSC.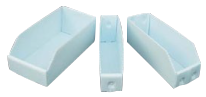 Shelf Bins are ideal for small inventory parts. Self locking by folding over ends and securing with tab locks that can be welded. Ships flat or setup ready to use.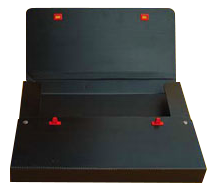 Portfolios and cases are lightweight and durable. They can be used to carry artwork and presentation materials.

Layer pads are used as horizontal dividers.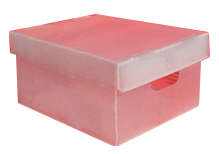 Half Slotted Container (HSC)
Same as a Regular Slotted Container without top flaps. Shown here with optional DST lid. Both ship flat and can be assembled in seconds.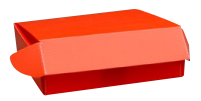 Roll End Lock Front (RELF)
This box sets up easily. The sides are folded over and tab lock into place. The lid comes over the front of the box closing with cherry locks. Ships flat.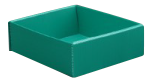 The RET tab locks into place when the sides are rolled over. Can be used as a lid or a tray. Ships flat.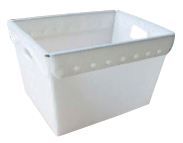 Nestable totes are ideal for conveyors, mail rooms and large inventory items. Can be nested to save space. Ship set up and ready to use.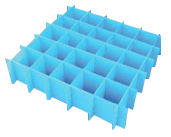 Partitions provide a great way for multiple items to be shipped in a container without the fear of breakage. Partitions separate and protect fragile items within a box.
Our corrugated plastic recycling containers can be used to help save the environment! Melmat can create custom fabricated corrugated plastic recycling bins and containers. These containers are durable and light-weight, and we can apply custom graphics and printing to any container.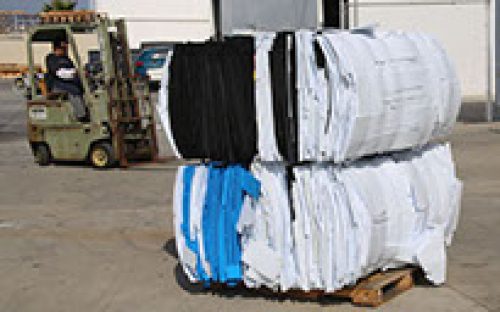 We Design Boxes, Bins and More
Our design team use solutions designed to save our client's money and time. We begin by communicating with you and understanding your unique requirements.
We Emphasize Fabrication Capabilities
We can respond to your needs the way you need to solve your problem. We like emphasize solving your solution. Please call us and we will respond to your inquiry.
A goal we have in our business is to respond to your inquires. Have a question please fill out the for below and it will be emailed to us. We will be responsive to your design oriented questions.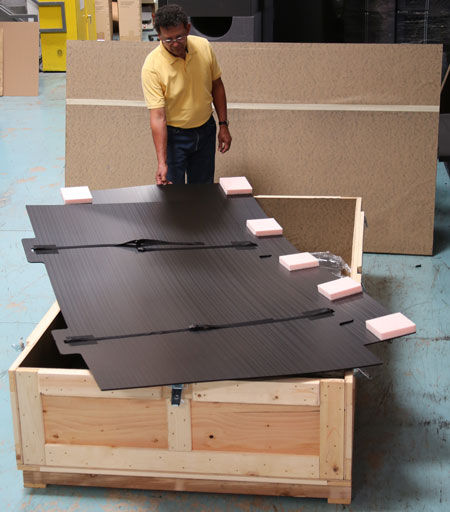 Corrugated Plastic Product Specifications
Durability/weather resistant/lightweight, corrugated plastic sheet has the advantage over corrugated paper. Corrugated plastic items last for many years, in most applications.
The United States Postal Service has used corrugated plastic trays and nesting totes for years, with many of the original items still in service.
Corrugated plastic does not absorb water or oil and is dust-free, making the material ideal for use in pharmacies and other places where cleanliness is important.
A few items, or thousands, corrugated plastic, cut and fabricated by Melmat, Inc. will provide utility and superior appearance Materials
Polypropylene (PP) is non-toxic, recyclable materials
Thickness and Weight
2.0 mm (0.079) to 10.0 mm (0.394)
Weight from 0.1 lbs./sq. ft. to 0.5 lbs./sq. ft.
Custom Extrusion Sizes
Minimum Width: 18″
Minimum Length*: 18″
Maximum Width: 104″
*Maximum length limited only by transportation and handling
Standard Sheet Size
48″ x 96″
Standard Colors
White, Natural, Yellow, Blue, Red, Green, Grey, Navy, Brown, Ivory, Orange and Black
Custom colors available upon request
Additives / Special Requirements
Conductive
Anti-Static
Case Study for Aircraft Manufacturing Corporation
A major aircraft manufacturer switched from metal shelf bins to Melmat, Inc. corrugated plastic bins.
One of the pioneering aircraft innovators from the 20th century has established a well-respected household name in the industry. This company was looking for a strong, durable, storage shelf unit with a minimum foot print. They wanted to replace their heavy metal bins with lighter more effective corrugated plastic bins. Their concerns were in finding bins that will serve their needs for long term hardware storage, have an environmentally better impact and be economically viable.
Melmat, Inc. proposed a sonic welded shelf bin constructed of heavy duty, light weight corrugated "green" recyclable plastic. It was quickly realized that corrugated plastic shelf bins were cost effective, strong and could perform as well or better than standard solid plastic or metal bins.
They contain and store hardware and component parts for assembly and service of their airplanes.
As a result, the company ordered thousands of varying sizes, of the "Sonic Welded Parts Shelf Bins," and these were distributed throughout their facilities and subsidiaries. Some of the sizes were custom fabricated due to their unique application requirements.
Case Study for Shelf Storage and Dispensing of Pharmaceuticals
A national pharmacy chain uses Melmat, Inc. corrugated plastic bins and shelf boxes to help them provide pharmaceuticals to its nine million patients annually.
Melmat, Inc. provided a replacement for the paper cardboard pharma-bins our client was using with a cost effective, corrugated plastic solution that is a perfect fit for them. Before using the Melmat corrugated plastic bin replacement solution our client was concerned because what they were doing at the time involved the use of corrugated paper bins (cardboard) that were often soiled and frayed since they were in constant daily use. We supplied bins the same sizes and configurations that solved their problems.
Melmat, Inc. of Huntington Beach, California came to the rescue by providing corrugated plastic bins that were created in a sonic welded and folded configuration. These Melmat Pharma-bins provided an easy to clean and maintain storage system that is used for extended storage. They eliminate the costly bi-monthly replacement of the old style bins. Our pharma-bins have a long utility life and can be used for years to come. This in turn, takes care of the contamination issues and the longevity/replacement problems. Additionally, our pharma-bins are created and delivered in a variety of colors to enable color coding of medications, and enhance organizing in a cost effective manner. Because the bins are sized to closely match the old paper bins, no additional shelf space is needed, and thus no additional costs are incurred. ​
Here are some pictures of sample corrugated plastic boxes we have made for some of our customers.
Corrugated plastic is made from polypropylene which is recyclable. Resin identification code 5 applies to its recycling category.
The term corrugated plastic refers to extruded twin-wall plastic-sheet products made from polypropylene resin with a similar construction to corrugated cardboard. It is both light-weight and tough which can be easily cut with a sharp knife. We stock sizes in both 3mm and 4mm thickness. It comes in thicknesses up to 10mm which can be special ordered, in a wide variety of colors.
At normal temperatures most oils, solvents and water have no effect, this allows it to perform under wet weather conditions or as a product component in contact with harsh chemicals.
Special requirement Conductive Anti-Static materials available.
CORRUGATED PLASTIC STOCK PRODUCTS